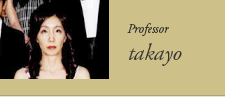 Academia eurhythmics Piano Classes
Piano teacher for 14 years


I am instructing clearly and carefully so that students love the piano as much as I do.

I will equally let participate in piano competitions all young students with the will for it. Through
the practice of piano, I want my students to experience and learn various things with a spirit of
self-improvement.

Teaching member of the national piano teachers' association of Japan
Teaching member of eurhythmics study center
Teaching member of YAMAHA MUSIC RETAILING CO.,LTD ginza piano teachers' club
Teaching member of YAMANO MUSIC CO.,LTD ginza piano teachers' club
Teaching member of KAWAI MUSUC Instruments manufacturing CO.,LTD piano teachers' club
Teaching member of Piano teachers' club YAMAHA
European International Piano concours 2013 in Japan Teacher Award with High honor
European International Piano concours 2018 in Japan Teacher Award with High honor
European International Piano concours 2021 in Japan Teacher Award with High honor

2022

Stanza Junior Piano Competition 2022 in Europe 4 participants.

2022

Francesca Vidal jury Master class participants.

2021

European International Piano concours 2021 in Japan 5th-6th grade Silver Award

2021

European International Piano concours 2021 in Japan 5th-6th grade Diploma Award

2021

European International Piano concours 2021 in Japan
3rd-4th grade Diploma Award 3 students

2021

Burgmüller competition 5th-6th grade Silver Award

2021

Burgmüller competition 5th-6th grade Effort Award

2021

Burgmüller competition 3rd-4th grade Incentive Award

2021

Burgmüller competition 3rd-4th grade Harmony Award

2021

Bach competition 5th-6th grades Incentive Award

2021

3 students passed piano player at elementary and junior high school music festival

2020

European International Piano concours 2021 in Japan 3rd-4th grade Silver Award

2020

European International Piano concours 2021 in Japan
3rd-4th grade Diploma Award 3 students

2020

European International Piano concours 2021 in Japan 3rd-4th grade Finalist

2019

3 students selected as piano players at elementary and junior high school music festival

2019

European International Piano concours 2019 in Japan
3rd-4th grade elementary school:winning

2019

The national piano teachers's association of Japan PTNA PIANO COMPETITION 2019
3rd-4th grade elementary school:incentive Award

2018

4 students passed piano player at elementary and junior high school music festival

2018

TV Asahi "Piano King Decision Battle" Audition participation

2017

6 students passed piano player at elementary and junior high school music festival

2017

European International Piano concours 2017 in Japan
3rd-4th grade elementary school:Bronze Award

2016

6 students passed piano player at elementary and junior high school music festival

2016

European International Piano concours 2016 in Japan
3rd-4th grade elementary school:Diploma Award

2016

European International Piano concours 2016 in Japan
1st-2nd grade:Finalist

2016

The national piano teachers's association of Japan PTNA PIANO COMPETITION 2016
3rd-4th grade elementary school:Qualifying Excellence Award

2016

The national piano teachers's association of Japan PTNA PIANO COMPETITION 2016
infant Incentive:Award

2015

3 students passed piano player at elementary and junior high school music festival

2015

European International Piano concours 2015 in Japan
3rd-4th grade elementary school:Incentive Award

2015

European International Piano concours 2015 in Japan
1st-2nd grade elementary school:Finalist

2015

European International Piano concours 2015 in Japan
3rd-4th grade elementary school:Incentive Award

2015

The national piano teachers's association of Japan PTNA PIANO COMPETITION 2015
1st-2nd grade elementary school:Qualifying Excellence Award

2014

3students passed piano player at elementary and junior high school music festival

2014

The national piano teachers's association of Japan PTNA PIANO COMPETITION 2014
1st-2nd grade elementary school:Qualifying Excellence Award

2013

European International Piano concours 2013 in Japan
3rd-4th grade elementary school:Bronze Award

2013

European International Piano concours 2013 in Japan
1st-2nd grade elementary school:Finalist

2013

The national piano teachers's association of Japan PTNA PIANO COMPETITION 2013
1st-2nd grade elementary school:Qualifying Excellence Award 2students

2012

The national piano teachers's association of Japan PTNA PIANO COMPETITION 2012
3rd-4th grade elementary school:Incentive award

2011

The national piano teachers's association of Japan PTNA PIANO COMPETITION 2011
5th-6th grade elementary school:Effort prize award

2010

European International Piano concours 2010 in Japan
5th-6th grade elementary school:winning

2010

The national piano teachers's association of Japan PTNA PIANO COMPETITION 2010
3rd-4th grade elementary school:Incentive award

2010

The national piano teachers's association of Japan PTNA PIANO COMPETITION 2010
1st-2nd grade elementary school:Incentive award

2009

The national piano teachers's association of Japan PTNA PIANO COMPETITION 2009
infant Qualifying Excellence:Award

2007

The national piano teachers's association of Japan PTNA PIANO COMPETITION
2007 infant:Qualifying Excellence Award